January 7, 2018
Shelley Swanland Workshop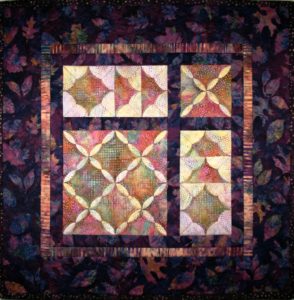 Shelley Swanland Workshop - Cathedral Windows Sampler
Create a small wall piece while learning three-dimensional piecing techniques from the book "Machine Stitched Cathedral Windows". From cutting to quilting learn this innovative alternative to traditional Cathedral Windows.  $5 pattern fee.  Precut kits available for $15.
Cost: $35 members/$45 non-members
January 8, 2018
General Meeting
Speaker: Shelley Swanland - Cathedral Windows and More Trunk Show
Trunk Show is a collection of approx. forty quilts from the last eight
years. Quilts from the books, "Machine Stitched Cathedral Windows"
and "Machine Stitched Cathedral Stars" are included as well as quilts
from articles, the Simply Quilts appearance and the patterns. It also
includes current works, personal stories and anecdotes from experi-
ences in the world of quilt designing.
Everyone is welcome to attend the General meeting.
Cost: free for members/$5 non member
January 9, 2018
January 10, 2018
January 11, 2018
January 12, 2018
January 13, 2018